---
ZZ-Darts v0.91e New!
(For Windows 95/98/Me)
Last Update: November 9, 2001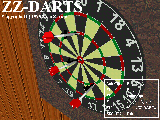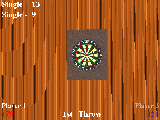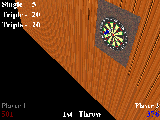 ZZ-Darts is a 3D darts simulator for Windows 95, 98 and Me.
You can play '01 game with your friends, families, or 3 computer players of different skills.
FREEWARE WITHOUT WARRANTY OF ANY KIND.
---
Requirements:
Windows 95, 98 or Me, VGA.
DirectX 5.0(or better) runtime (6.0 or later is recommended)
It is recommended that you have...
3D video accelerator card
GM(General MIDI)-conformable sound device
Attention:
Very sorry but this version of ZZ-Darts does not work correctly with such video cards like Voodoo, Voodoo2 or PowerVR.
---
Changes from v0.60e:
Added optional rules like 301game and Double In/Out.
Added a new replay mode.
Adjusted game difficulty to some extent. You may feel this version is a bit more hard than the previous one. If so, disabling "Double Out" optional rule may be your help.
The computer player now throws his darts at some intervals. The more skillful dart he is going to throw, the longer the interval is.
For example, the computer throws a dart carefully (after some longer interval time than usual) when the dart is likely to be a finish. (Depress right button of the mouse to skip this interval, if you feel this effect lengthy.)
Some of options of the previous version are disused now. They are: "Game difficulty equivalent to v0.5x", "Shading" and "Texture mapping."
And the default value of "Bilinear Filtering" is changed to "enabled" now.
ZZ-Darts now uses Win32 registry to save option settings.
Revised graphic data.
Added new HTML-format playing instruction.
The object code gets bloated greatly in its size. It's mostly because of newly using another library (or "STL" if you know).
"No installer" version no longer exists. V0.90 is distributed always with an installer and an uninstaller.
---
Download:

v0.91e (0.66MB) (with an installer/uninstaller, easy to install.)
Copyright(C)1998 - 2001 Z o o Z o n e
---